THE AMAZON ADS OFFER 100% PERFORMANCE
Boost sales and revenue with Amazon Ads
Learn about the expertise of Ad's up Search Marketing Engineers, certified Amazon Sponsored Ads, in managing, optimizing and performing your Amazon Ads advertising campaigns.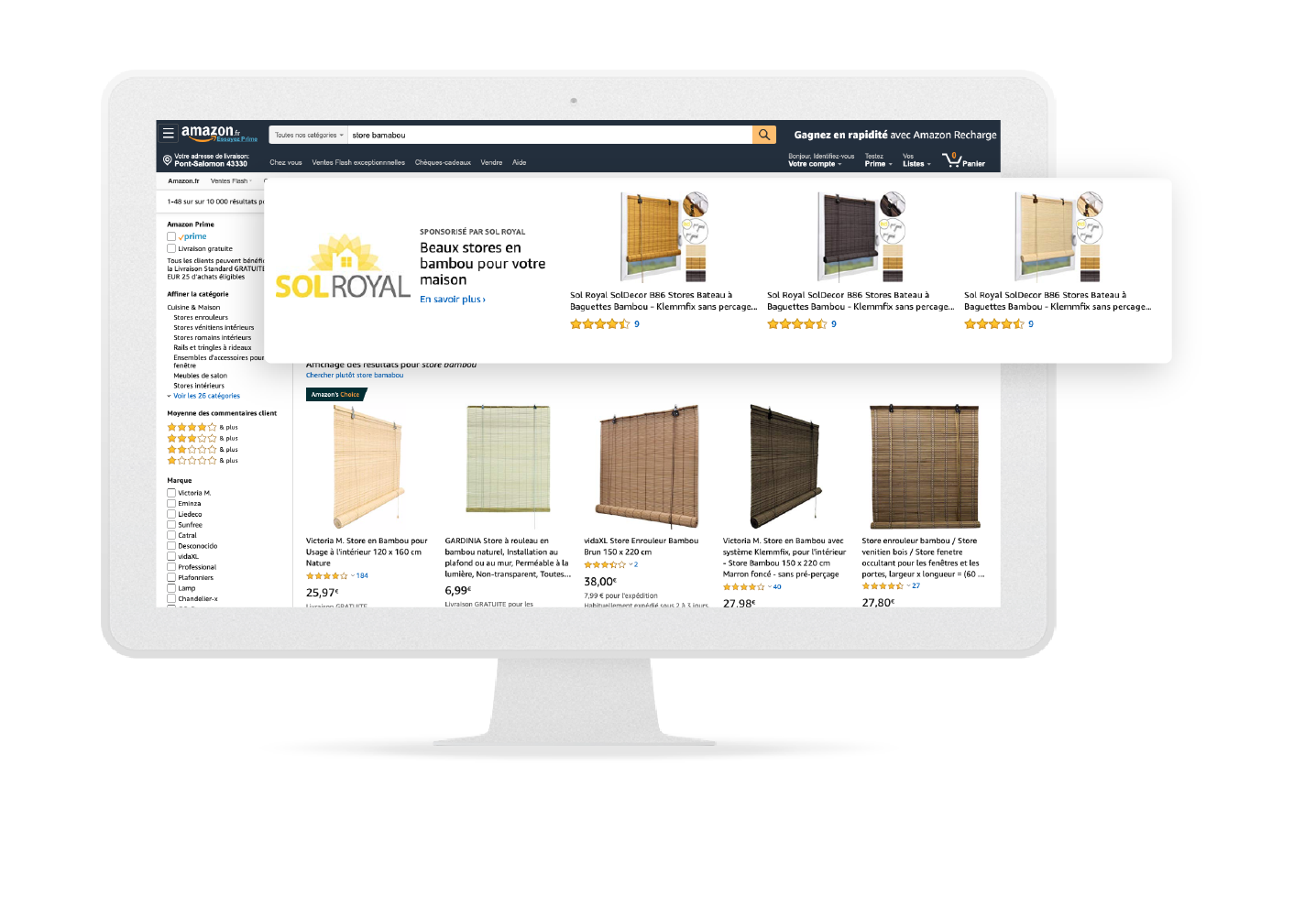 Why communicate on Amazon Ads?
The number one e-commerce site in France, Amazon is making a lasting difference to the way we buy on the Internet. More and more consumers are now starting their search phase of finding information produced directly on Amazon, rather than on Google. With ever-increasing mobile and desktop traffic, the search engine's multi-device presence makes it unavoidable.
Why choose Amazon Sponsored Ads certified experts?
An Amazon Ads agency that can benefit from the e-commerce expertise of our teams, Ad's up fully manages the performance and success of your Amazon Ads advertising campaigns for you. With its many ad formats and intuitive interface, Ad's up saves you time and gives you exclusive tools to boost your ranking on Amazon.
Content management and optimization
Increase the visibility of your products and YOUR ROI on Amazon Ads
Our experts accompany you in optimizing SEO content from your product listings (title, feature points, description) to improve your natural referencing and conversion rate of your campaigns.
Our Amazon Ads agency performs an analysis of your semantic field through our specialized tools, to capitalize on relevant keywords and record the largest search volumes.
Marketing optimization of your content also includes writing strategic arguments that allow visitors to project themselves by visualizing the benefits of the products.
Contact us
Natural indexing

Improve the natural referencing of the product listing

Conversion rate

Boost conversion rate by adding as much information as possible

Broadcast power

Increase the broadcast power of automatic advertising campaigns
Amazon Ads
Boost sales and revenue with Amazon Ads

Optimize your international revenue with Amazon Ads

Ad's up supports its customers on the development of their international Amazon Ads digital strategy. Our experts optimize your product listings in all languages (IT, DE, ES, UK), to maximize your conversion rates and boost your revenue via Amazon Ads ads.

Take advantage of our Kenshoo auction optimization tool

Our experts use the Kenshoo tool every day to optimize the management of Amazon advertising campaigns.

Implementation of automatic optimization rules: increase/decrease of cpc, exclusion of keywords
Activating ROI goals to be met by campaigns for the algorithm
Generation of custom dashboards
Reducing the time it take to create advertising campaigns

Increase your sales through Amazon Ads targeted advertising

Amazon Sponsored Products is a pay-per-click advertising solution that promotes your products sold on Amazon, using keyword-targeted ads. Take advantage of 3 high-performance advertising formats to boost sales and maximize your visibility in Amazon's search results. No risk, you pay to the CPC only when a user clicks on your product! Our experts are responsible for activating the best advertising strategies by highlighting your product catalog.
Contact us
Managing evaluations
The number of positive reviews is a key factor in getting a better ranking of your product listings, and therefore increasing the number of your sales.
The number of positive reviews is a key factor in getting a better ranking of your product listings, and therefore increasing the number of your sales.
Automation of ratings, via Trendle Analytics
Our Amazon Ads agency supports you on creating emailing campaigns to automate the acquisition of customer evaluations. Automation allows you to maximize your chances of collecting positive ratings to better improve the ranking of your product listings. Thus, you improve your natural referencing on Amazon, and especially your sales.
Creating emailing campaigns in three steps
Case studies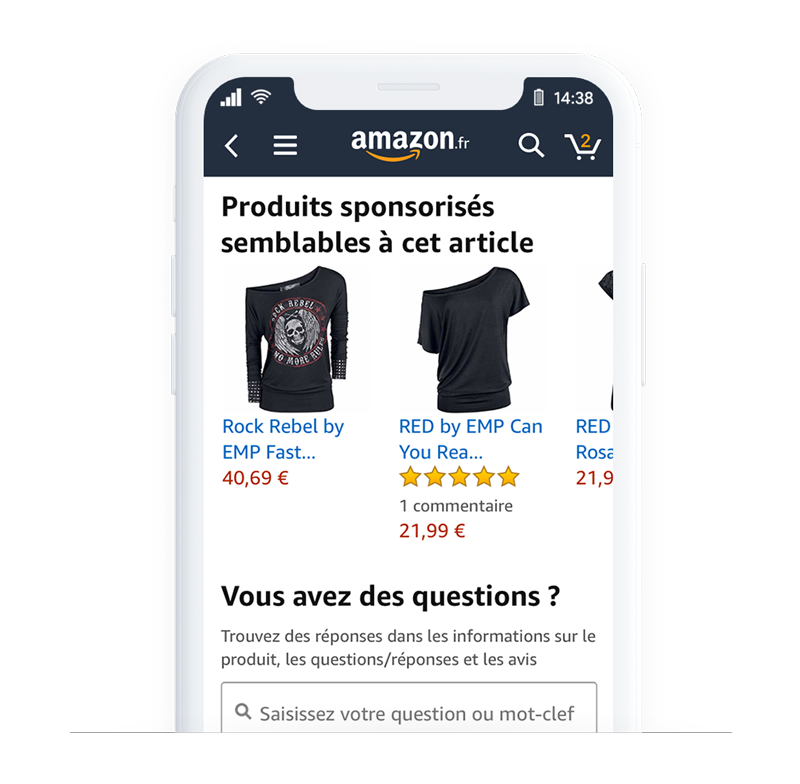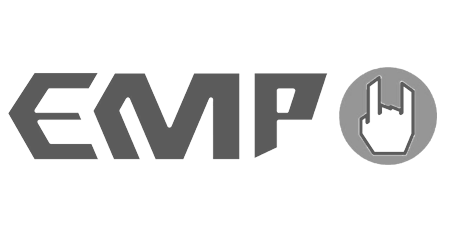 A powerful strategy for EMP on Amazon Ads
EMP, Europe's number one e-commerce site for music merchandising (Rock and Metal), Pop Culture (Film, Gaming and TV Series) has called on Ad's up experts to implement a performance strategy on the Amazon Ads platform. They wanted to achieve several objectives through these new campaigns: increased sales, sales, but also be able to offer their entire product catalog.
By including Amazon Ads in their SEA strategy, EMP has benefited from better coverage of all their product themes by spending less, notably through the introduction of the implementation of the least relevant keyword exclusion rules. In terms of numbers, the results are excellent since Ad's up's expertise on their Amazon Ads campaigns allowed them to generate 830% in sales and a 155% increase in sales.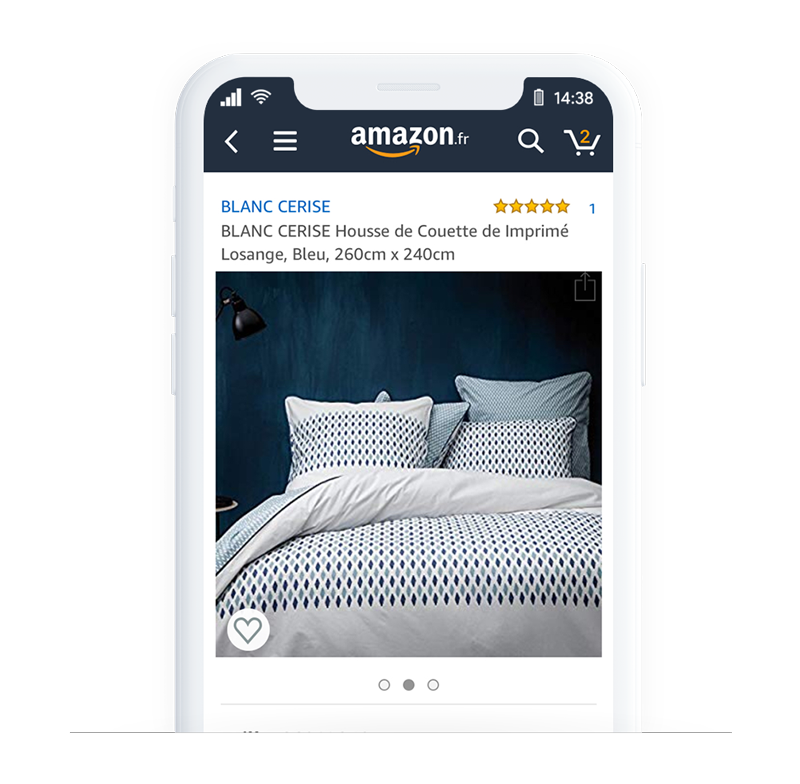 12.62% of ACOS obtained, for a target set at 20%

Diversify your levers via the marketplace
Blanc Cerise is a linen brand combining trend, know-how and originality for timeless products of high quality. A DNA of elegance and refinement that have successfully dictated their collections since 2011. Eager to vary its digital acquisition levers, the brand has chosen to complete its SEA device by launching on Amazon Ads.
Already backed by Ad's up in optimizing and managing their SEA campaigns, Blanc Cerise trusted the agency's Amazon experts to be supported in their Marketplace strategy. With the goal of an ACOS (Advertising Cost of Sale) not exceeding 20%, our agency Amazon Ads has orchestrated Sponsored Products campaigns that allowed Blanc Cerise to obtain an ACOS of 12.62% for 113 orders placed. Building on the success of their first campaigns, the brand now aims to expand the number of references on the platform.

A ROI on the rise for Cosmeyer!
Cosmeyer, a specialist in the online sale of hair products (shampoo, smoothing, etc.), has called on Ad's up to support them in the creation, management and optimization of their Amazon Ads strategy with a dual objective of increasing sales and developing their turnover through leverage. Specialists in ROIistes strategies, Ad's up experts first set up automatic campaigns on each brand and product type to detect the most powerful keywords. The strategy resulting from this first phase has enabled Cosmeyer to make a difference by promoting the locations produced directly in the search results of the Marketplace, where clicks often come from intentional users and benefit from a very good conversion rate.
Our Amazon Ads agency has also done rigorous work on the detail of their product listings (titles, descriptions, attractive visuals) to ensure the visibility and relevance of the brand in the face of increased competition from its sector. Today, Cosmeyer's Amazon Ads campaigns allow them to get an ROI of 16, compared to an ROI instead of 10 on their Google Ads campaigns, as well as 100% revenue.