The highest expertise on the market on Google Ads
Optimize your search engine presence to maximize your performance
Since 2012, Ad's up has been supporting multiple types of advertisers - from startups to larger companies - on optimizing their Google Ads and Bing Ads campaigns. Our 100% ctified Google consultants, first analyze the competition and dynamics of SEM (Search Engine Marketing) in your industry. The study of the structure of your website and its taxonomy is also essential to the implementation of strategies tailored to your needs, products and services.
Leads generation

Ad's up supports you in the generation of qualified leads, in all types of sectors: banking, insurance, requesting quotes, registrations, etc.
Our expertise in generating leads goes beyond your site: we measure how many leads generated on your site turn into real offline customers. This allows us to focus investments on campaigns that are the real business brings. Together, we calculate the average value of a lead to determine the best acquisition cost (CAC) to obtain.

E-commerce

Mastering the issues and specificities related to the retail sector, we offer you support to meet your growth objectives.
Ad's up focuses its optimizations on the development of your turnover, vigilant the return on investment (ROI), your margin per product, as well as the sales volume. Depending on the seasonality of your business, we correlate your volume and ROI goals in real time, in order to achieve the best possible ratio together. Whether you're a pure-player or a brick-mortar, we put in place the necessary mechanisms to track your off-line performance, such as store visits for in-store sales tracking.

B2B

Ad's up has a consulting centre entirely dedicated to B2B issues.
Reasoned buying, finalizing the sales process by phone or face-to-face, scoring leads, long buying cycle, higher cost per click, hard-to-reach audience... Good practices are no longer enough to meet the needs of B2B companies. It is therefore essential to be accompanied by a SEA B2B agency with solid expertise to build a strategy adapted to your specific issues.
Piloting and optimizations
Take full advantage of the power of Google Ads
With Google Tag Manager, Ad's up guides you in installing Google Analytics and your conversion tracking tags such as the Global Tag Google Ads, or the Floodlight tag.
Whatever your configuration, we select indicators relevant to your business. The success of a campaign depends heavily on the ability to measure and interpret results. The time spent on analysis and optimization is therefore fundamental. Your team will be dedicated to your project and you will have a single contact. The latter will send you a monthly, weekly or daily report according to the pace set together. These reports are customized at your leisure and an analysis of the actions taken is carried out so that you can assess the impact of your advertising investments. With Data Studio dashboards, you can access your campaign results in real time via a dedicated interface. Trust an expert Google Tag Manager agency!
Automation and tools
Advanced campaign management with dedicated tools
Ad's up goes beyond simply piloting your campaigns through the Google Ads interface. We harness the power of Google-designed Search Ads 360, internal scripts and third-party tools to take your campaigns to the next level of control and management.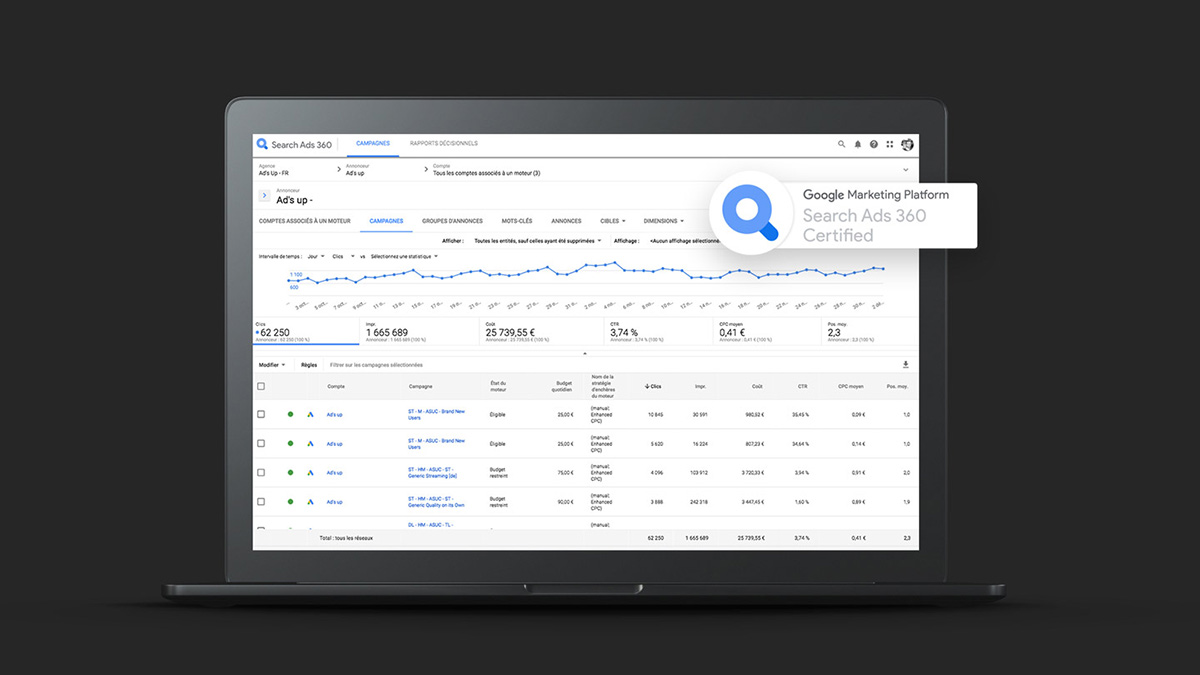 Exclusive bidding strategies

Incorporating exclusive bidding strategies, natively absent from Google Ads, Search Ads 360 allows you to bidder based on your device, margin per product, but also double constraints (CPA - ROI). With the power of Adaptive features (Shopping, Geo and RLSA), Ad's up seamlessly and in real-time adjusts your product groups, geographic areas and audience lists based on performance.

Dynamic real-time campaigns

Search Ads 360 allows us to manage your Google Ads campaigns in real time, in connection with your product catalog: automatic shutdown of ad groups based on inventory, dynamic creation of keywords for new products, automatic pricing update in ads, etc. Changes are made based on your performance and the history of these adjustments remains searchable and transparent.

Scripts

Scripts are part of the expertise of our consultants. We systematically set up scripts on all your campaigns to ensure the hygiene of your account. For example, we use a 404 page verification script to avoid showing ads on pages on your site that have an error or whose product would no longer be available in stock. This saves you from spending your budget unnecessarily.
Competitive market intelligence
If you are an e-trader, you know the importance of keeping prices competitive to maintain your processing rate. The challenge is more complex if your catalogue has several thousand products. We use a competitive intelligence tool to adjust the amount of bids to reflect price changes in your competitors or distributors. With this visibility, you can make real-time adjustments.
OUR TOOLS
Synchro TV/Radio with SEA
TV/RADIO-SEA syncing involves triggering action on Google Ads campaigns when broadcasting a TV or radio spot. With real-time analysis of all previously defined ad channel channels (yours or your competitors'), the tool syncs with the Google Ads API. With scripts, we can then create all possible scenarios: turn campaigns on/off, increase bids, customize ads ("Seen on TV," dedicated offer, etc.)
OUR TOOLS
Case studies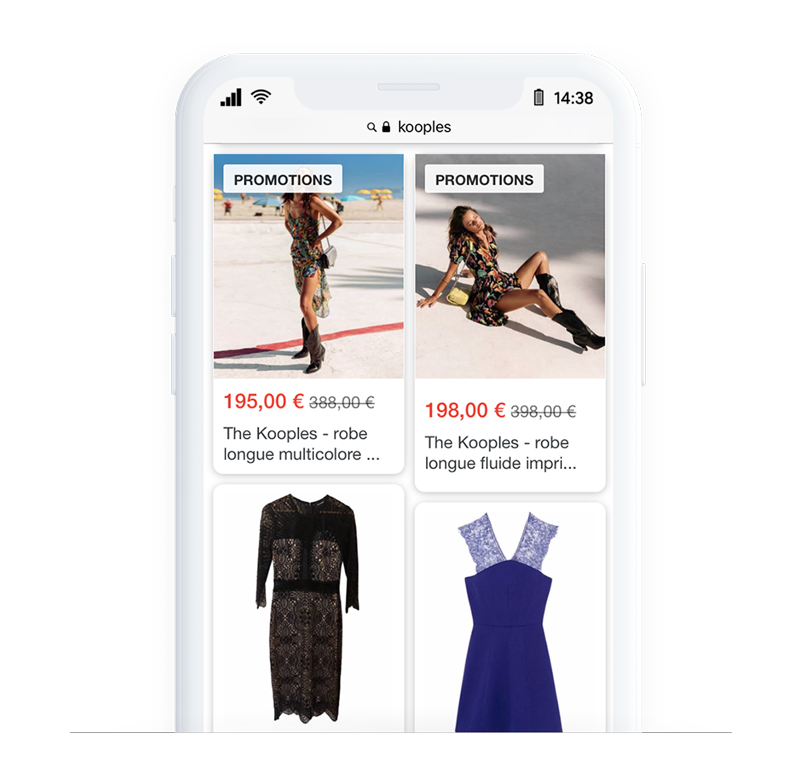 The Kooples to conquer the international!
Strongly established in the French fashion landscape, The Kooples, the famous "chic, rock and quirky" brand of the Elicha brothers, has been seducing since its creation in 2008. Supported by Ad's up since 2017 in its Search Marketing strategy in France, the orchestra brand the pursuit of its development by challenging itself to conquer the international market. The Kooples made the choice at the beginning of 2018 to renew its confidence in Ad's up's expertise to support it in the creation and implementation of a 100% tailor-made SEA strategy dedicated to the specificities of the US market.
To help them develop their image across the Atlantic and quickly gain new market share, our Google Ads agency has built on the proven strength of the Google Shopping platform and the Google Marketing Platform to meet the brand's expectations. With the implementation of a strong branding strategy to develop the visibility and premium DNA of The Kooples in the US market, they have succeeded in increasing their conversion volume via highly skilled traffic.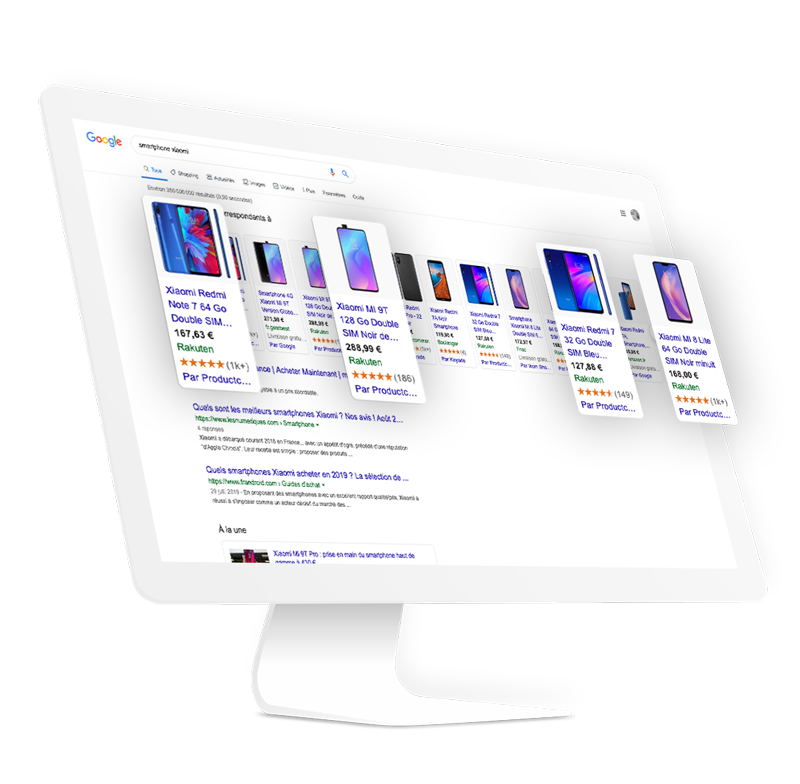 Cap Search Ads 360!
Rakuten (formerly PriceMinister), a shopping and sales platform, is one of the e-commerce giants with a marketplace that attracts millions of visitors every day. A true challenger in an ultra-competitive market, Rakuten wanted to stand out by reviewing its entire search marketing strategy, for successful campaigns focused on increasing its traffic and revenue. The marketplace has called on the expertise of Ad's up, the first independent agency to obtain the agency Search Ads 360 labelisation nationally, and certified Agency Google Marketing Platform Partner.
The rollout of Search Ads 360 completely transformed the brand's vision of its business, projecting new perspectives. The strategy put in place allowed them to cover their entire catalogue in order to be able to communicate in real time on a large volume of products, evolving daily. Once campaigns were rolled out across all semantic products and fields, Ad's up's expertise helped maximize campaign returns, including through Search Ads 360 auction strategies. A successful collaboration with an increase in Rakuten's visibility of 35%, while generating 20% of sales.