YouTube advertising
Use branding to improve your performance with YouTube Ads
With 95% of visibility assured compared to other levers in the video industry, YouTube offers advertisers top-notch visibility. A clever mix of sounds, images and storytelling, the platform is an invitation to enter the world of your brand, to develop your notoriety with a receptive audience, to convey your values and your story to better strengthen the purchase decision of the user, and your performance.
18'
Daily listening time
A viewing time equivalent to national channels
more than
44M
monthly web-viewers
An audience comparable to TNT
With 1.5 billion monthly mobile viewers consuming more than 1 hour of video per day, including YouTube Ads in your Search Marketing strategy means that you can achieve better results in terms of visibility and accessibility. This community of particularly invested and attentive users can help you meet many goals:
Branding
Increase your visibility and grow your community
Enhance your brand
Engage and retain your audience with storytelling
Performance
Turn interest into sales and conversions
Creative advertising
Gain the attention of your audience and give them the means to act.
Do you want to combine visibility and performance for your YouTube Ads campaigns? Creative advertising responds perfectly to this crucial double goal with an excellent digital strategy from 2018. By offering tailored content, specifically designed according to audience expectations you capture their attention and increase brand loyalty and engagement with your world and products.
To meet the challenge of an ever more volatile, impatient and demanding audience, the YouTube creative format reverses the classic video-making scheme. Your different types of audiences are the core thought for creating your videos so you can address them in an impactful, effective way that leads to results.
Captivate

Focus your attention on the
First 5 seconds

Be yourself!

Work with humor,
raise a smile

Create a story

Differentiate your messages
A call to action, storytelling, visuals, sounds etc. the only limit for your context on YouTube Ads is your imagination. Ad's up can help you to multiply the power of data, combined with the impact of creative video for optimal performance.
Ad Formats
Capturing attention is now the most important challenge for any brand
Branding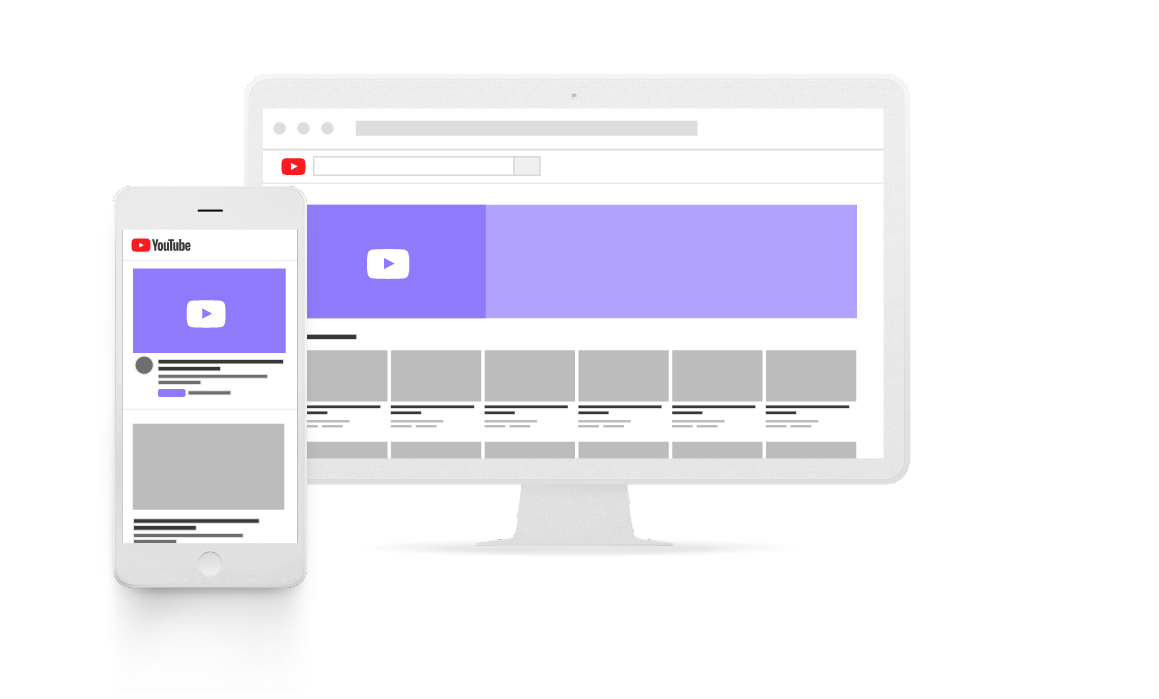 Masthead
Stream your video to as many people as possible, directly from the YouTube homepage, for 24 hours.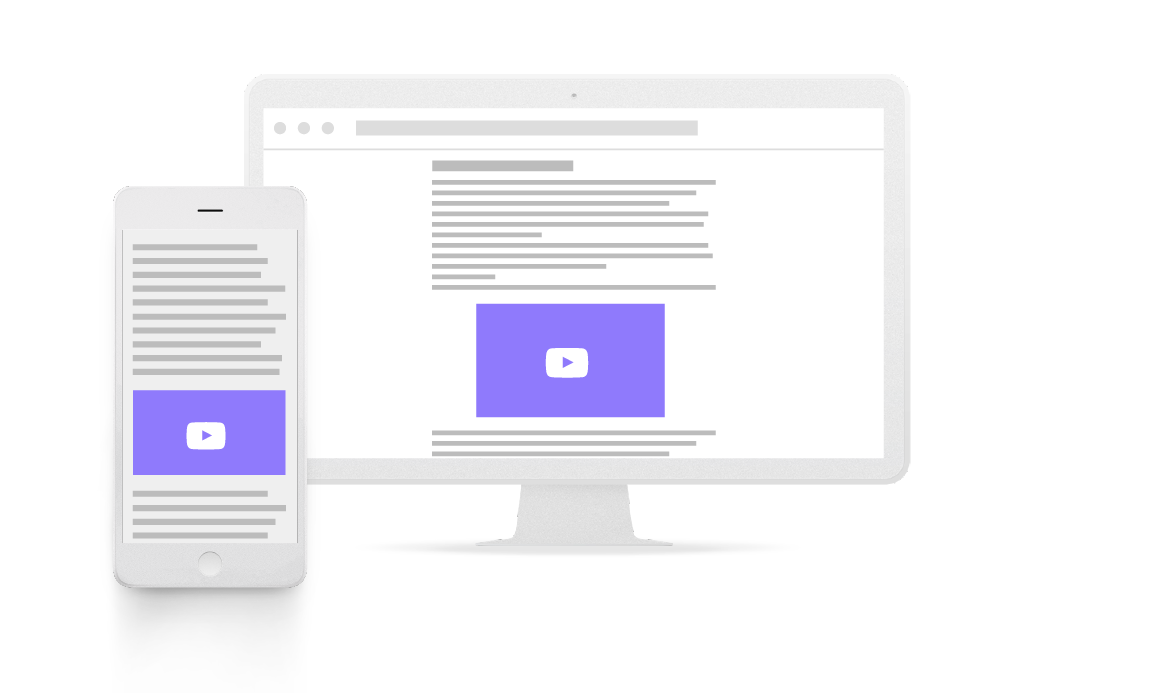 Outstream
Available on mobile and tablet, display your ads on other partner sites and apps to increase your audience and reach more potential customers. vCPM billing (Cost per thousand visible impressions.)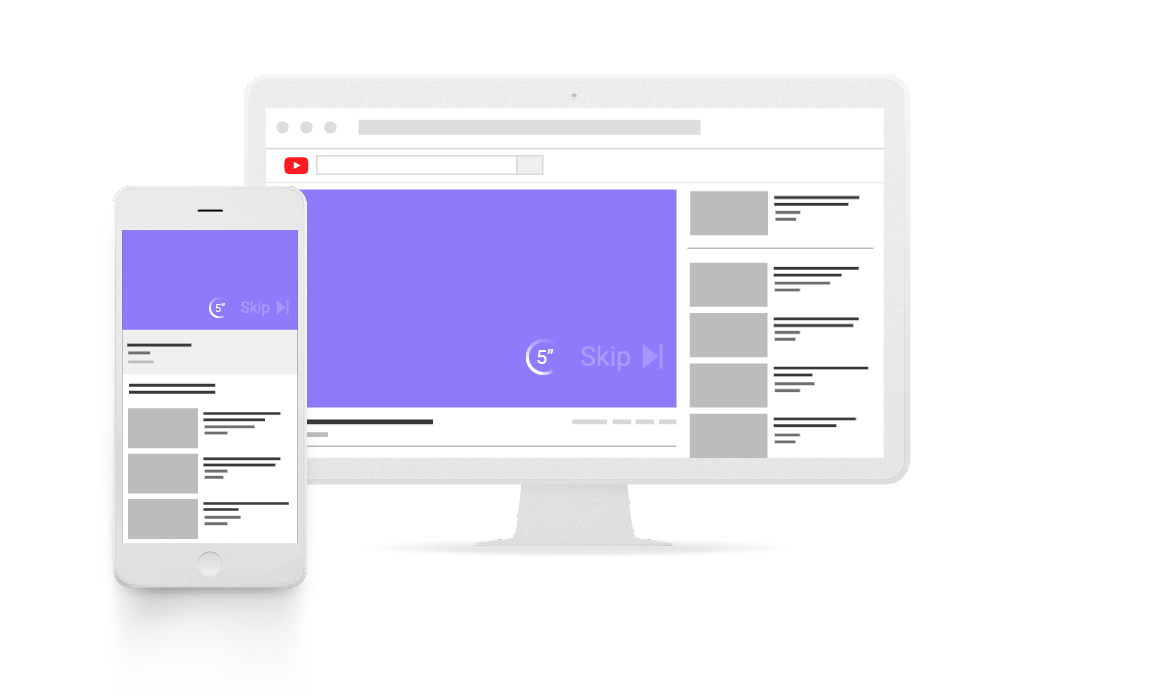 TrueView for Reach
Engage without a time limit! This hybrid format, which users can skip after 5 seconds, allows you to run a classic ad of the duration of your choice, and to be billed for CPM.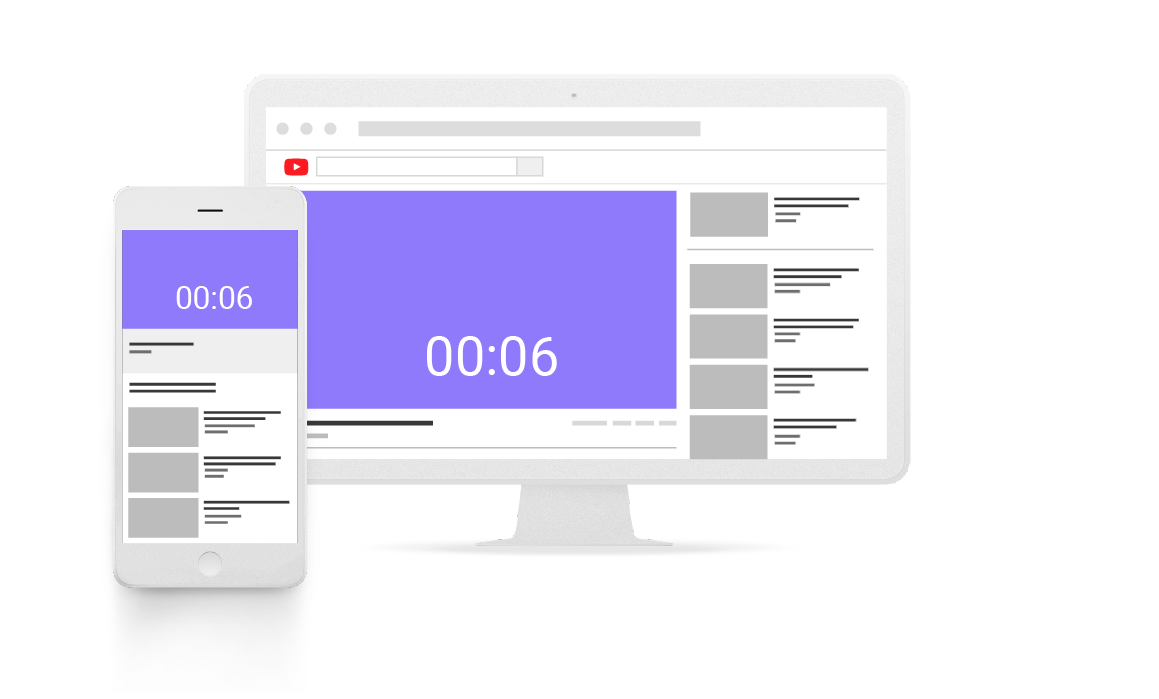 Bumper ads
A short 6-second format to grab attention and create an impression! Maximize your ad reach while improving brand awareness. Billed by number of impressions (CPM).
Exemple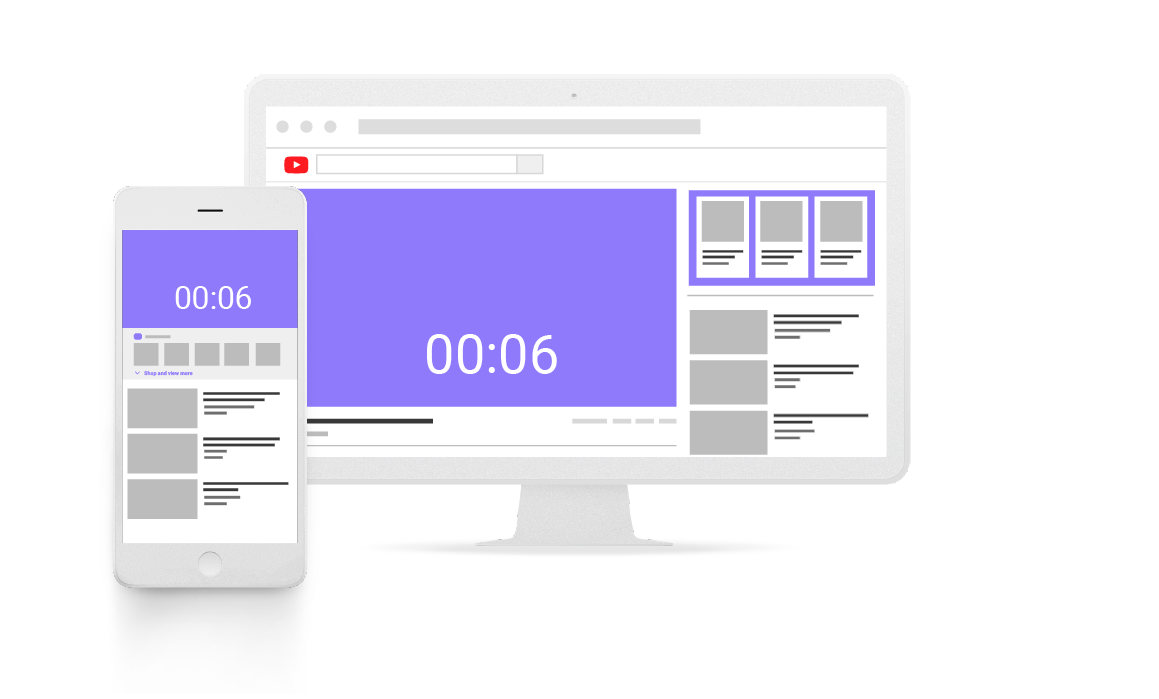 Bumper Ads for Shopping
Add a selection of your products directly under the video, to spark engagement across your brand's world! Perfect for increasing visibility and reputation.
---
Engagement and interest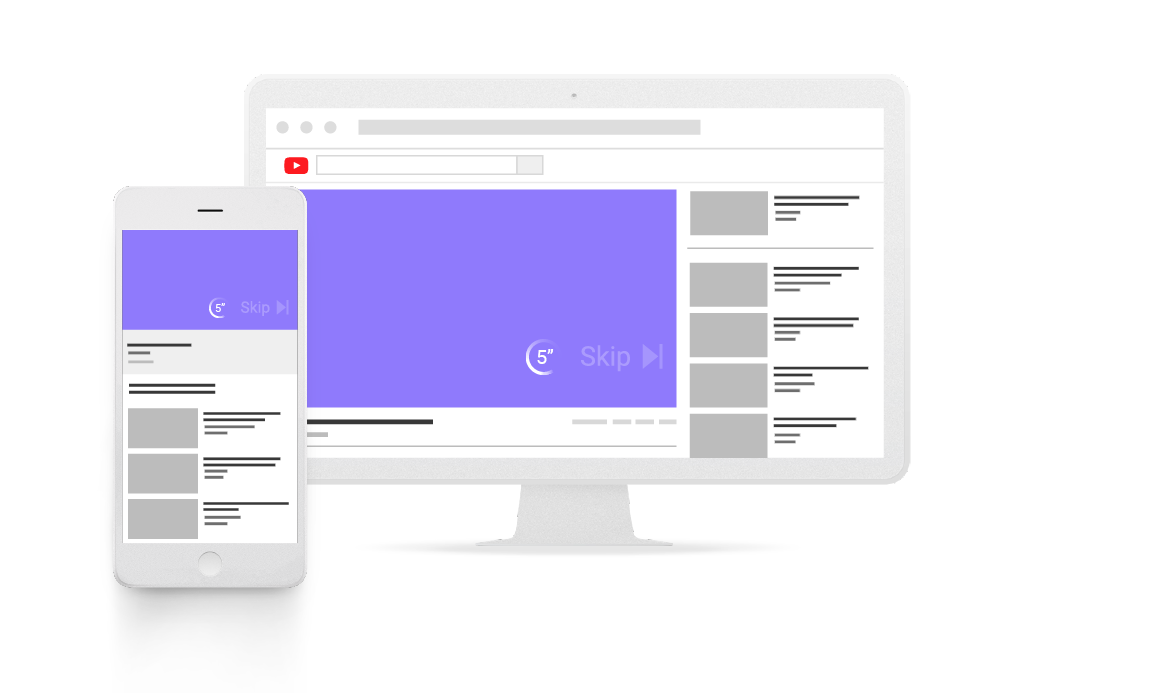 In stream TrueView ads
Increase your reputation with an engaged audience. Before accessing its content, users are shown your video, which they can skip after 5 seconds. Cost per view billing.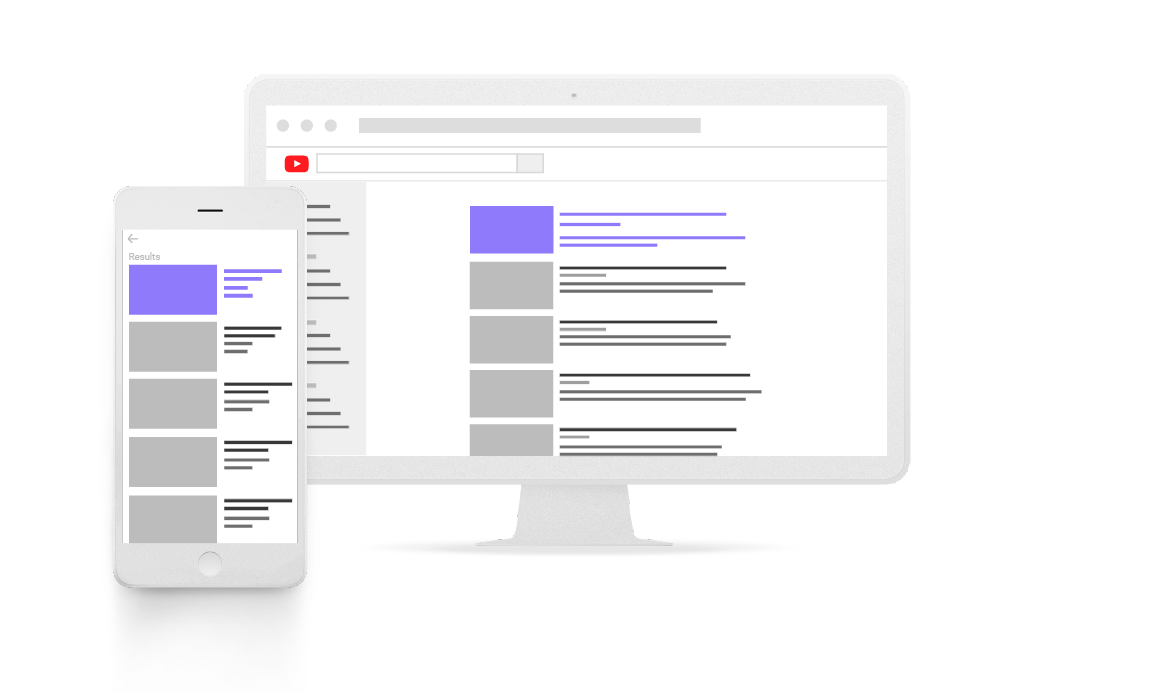 Discovery TrueView Ads
Show off your videos on YouTube and on Google Display's partner sites. Grab users' attention when they're actively searching for content. Billed on engagement and clicking on the ad.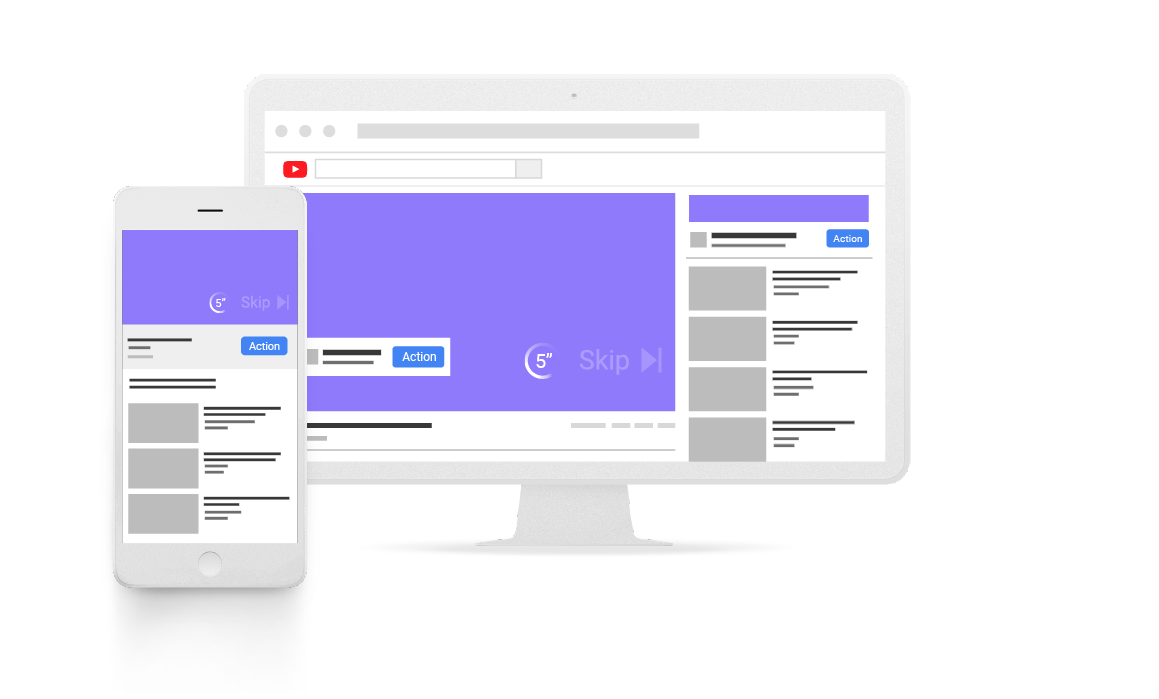 TrueView for Action
Enjoy an optimized format to generate conversions and visits to your site, with customizable and improved calls to action. Import your own creative elements (logo, image, etc.)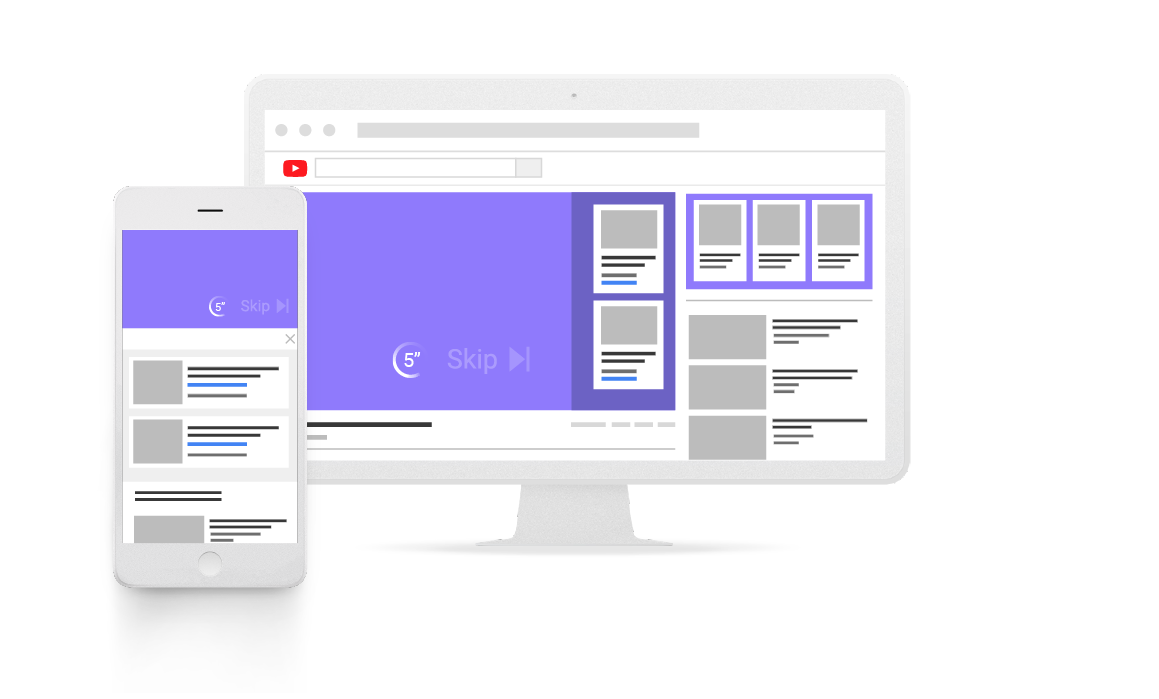 TrueView for Shopping
In addition to your video ad, present a selection of products to generate greater engagement, and encourage people to discover your world.
Audiences
Address an audience that's ready to listen to you, an attentive audience
YouTube offers you a new dimension of exclusive targeting to address an intentional audience! Based on a meticulous re-grouping carried out by Google, YouTube Ads helps you reach profiles of committed and qualified users according to their signs of intent emitted on the entire Google suite (e.g. Search, Google Maps, Google Apps, etc.).
Affinity audiences
Target people who have shown an interest in a particular topic.
Custom affinity
Target people who have shown an interest in keywords, selected upstream by the advertiser.
... Read more
In market audiences
Target people on YouTube following an active search for products/services on Google.
Custom intent
Target people on YouTube following an active search for keywords pre-selected by the advertiser on Google.
... Read more
Consumer patterns
Target people based on their regular offline usage and purchases. (large stores VS individual retailers for example).
... Read more
Life events
Target potential customers based on specific buying behavior generated by a stage of life: marriage, diploma, move, etc.
... Read more
Similar audiences
Target potential new consumers who share similar features/profiles to your customers.
... Read more
Remarketing
Target people who have previously been exposed to your video campaign.
Tracking & Managment:
YouTube for brands
Optimize success indicators and track
your return on investment.
Optimization
Based on objectives defined upstream, campaigns are managed using ultra-specific performance indicators and adapted to meet your expectations. Whether you're looking for visibility, engagement or purchases from your audience, continuous tracking and optimization play key roles in achieving your goals.
Our consultants use automatic bidding tools to provide you with responsive, tailor-made support when tracking your YouTube campaigns. These help you pick up the different signals unique to your business, ensuring that your campaign performance is optimized on a daily basis.
Smart Bidding:
Optimizes conversions or their values through machine learning and provides many unique signals centralized by Google.
Maximize Lift:
Maximizes the impact of your video campaigns by using an automatic bidding strategy that will help you reach the people most likely be interested in your brand after seeing your video.
Our Tools
Performance monitoring
Conversion tracking

Conversion goals

Set up desired conversions

Assigning conversions by contact point

Brand Lift and Brand Interest Studies

Measuring the impact of video campaigns on brand image and awareness

Store Visit

Track the behavior of buyers during their customer journey, both online and offline

Personalised reporting tools

example: DATA STUDIO
Our Tools
Case studies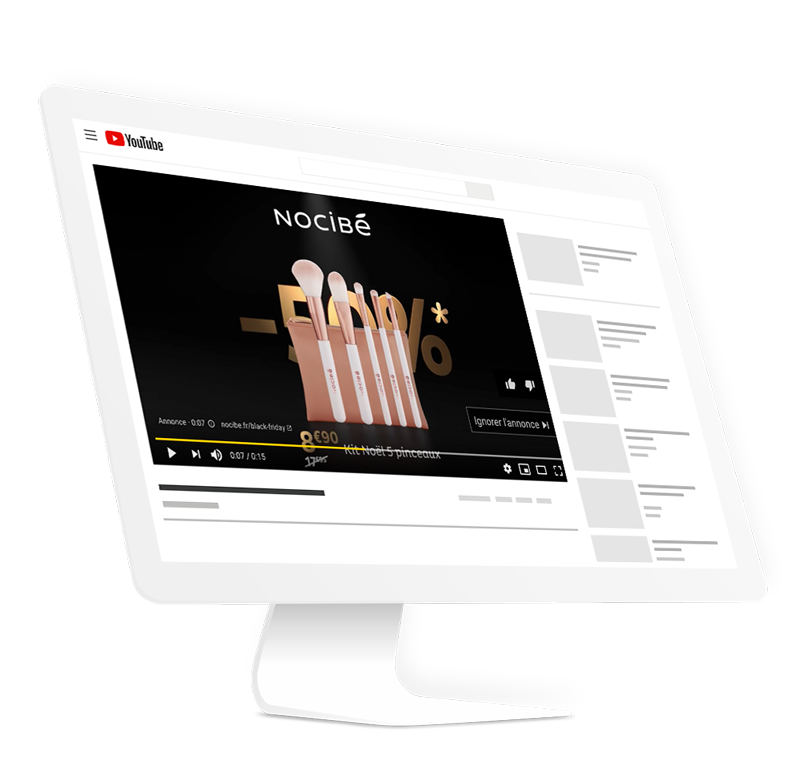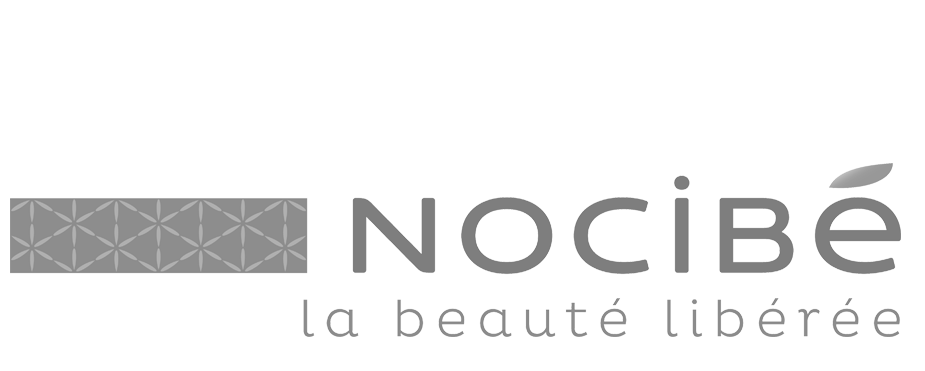 Nocibé follows their consumers on YouTube!
Nocibé, the French beauty brand, is one of the perfume and cosmetics distribution leaders in France. With more than 35 million visitors on its website, Nocibé follows trends and has adapted its communication to suit their consumers' digital habits. Ad's up has been supporting Nocibé since 2015 with their digital outreach strategy and is currently helping make their YouTube campaigns a success. Nocibé chose to use YouTube to meet the challenge of reaching new customers who match their targeting criteria perfectly.
Ludovic Lenglet, Head of Traffic Acquisition at Nocibé, tells us how happy he is with their decision and the performance of their campaigns:
"We have a responsibility to meet the expectations of consumers where they are, at the right time and with the right message. Today they buy on Google and are inspired by YouTube."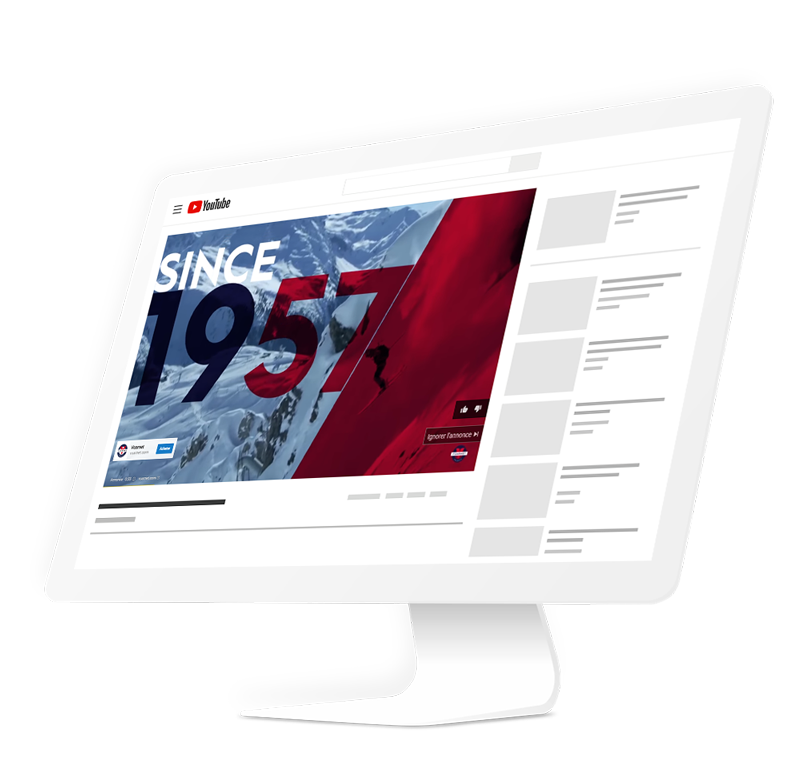 Vuarnet, the revival of a cult brand
A blend of luxury and authenticity made in France, Vuarnet has been adorning our eyes since 1957. After being at the height of its fame in the 90s, the famous eyewear brand has been able to bounce back and bring their communication up to date with a digital strategy reflecting the values of their first ambassadors. With a strong presence in the historical European markets in and the US, Vuarnet succeeded in the challenge of increasing its audience by relying on the power of YouTube, via quality content and innovative formats for a strategy combining both branding and performance.
In particular, the platform enables them to meet their recognition, commitment and conversion goals. A successful 3.0 enticement operation for Lionel Giraud, CEO of Vuarnet:
"We are aiming for an average annual growth of 50% with sales expected to reach 15 million euros this year"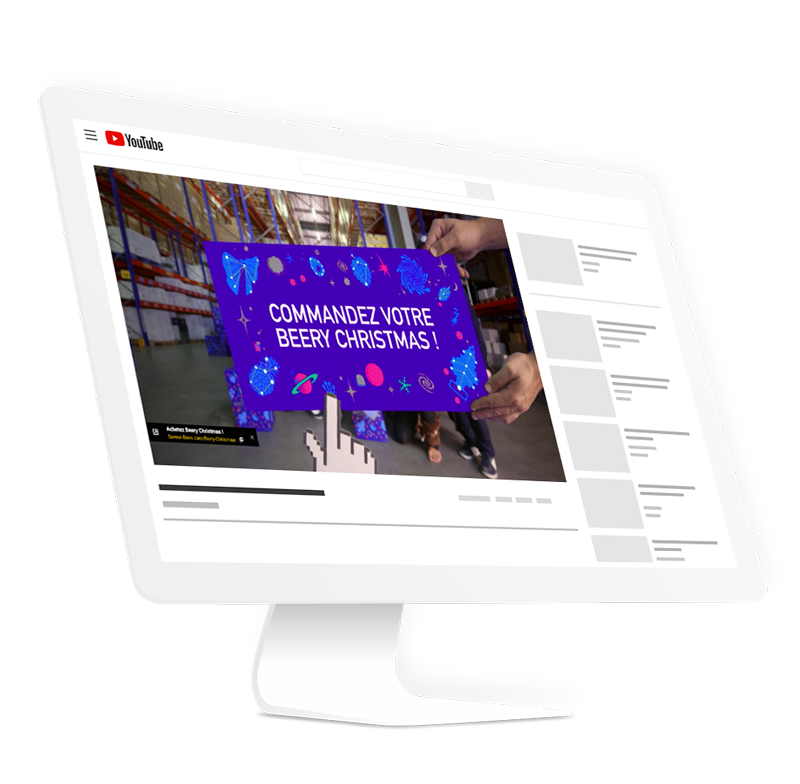 Saveur Bière's Christmas: Beery Christmas!
Since 2007, Saveur Bière, a leader in the sale of beer on the internet, has established itself as a benchmark in the brewing world by taking up the challenge of offering fans of hop experiences more than 1500 types of beer from all over the world. Voted "best advent calendar in the world" by GQ magazine, their Beery Christmas gains new followers every year.
In order to continue its development and increase sales, Saveur Bière has chosen to follow its audience on YouTube, where, with the help of Ad's up, they've designed a performance-oriented high-return strategy.
With the aim of generating sales on the site while respecting a low target acquisition cost, the platform helps them achieve this dual objective through all available formats. YouTube allows Saveur Biere to increase their reputation, enticing an ever-widening audience, thirsty for original content.